Holiday Half Term Art Club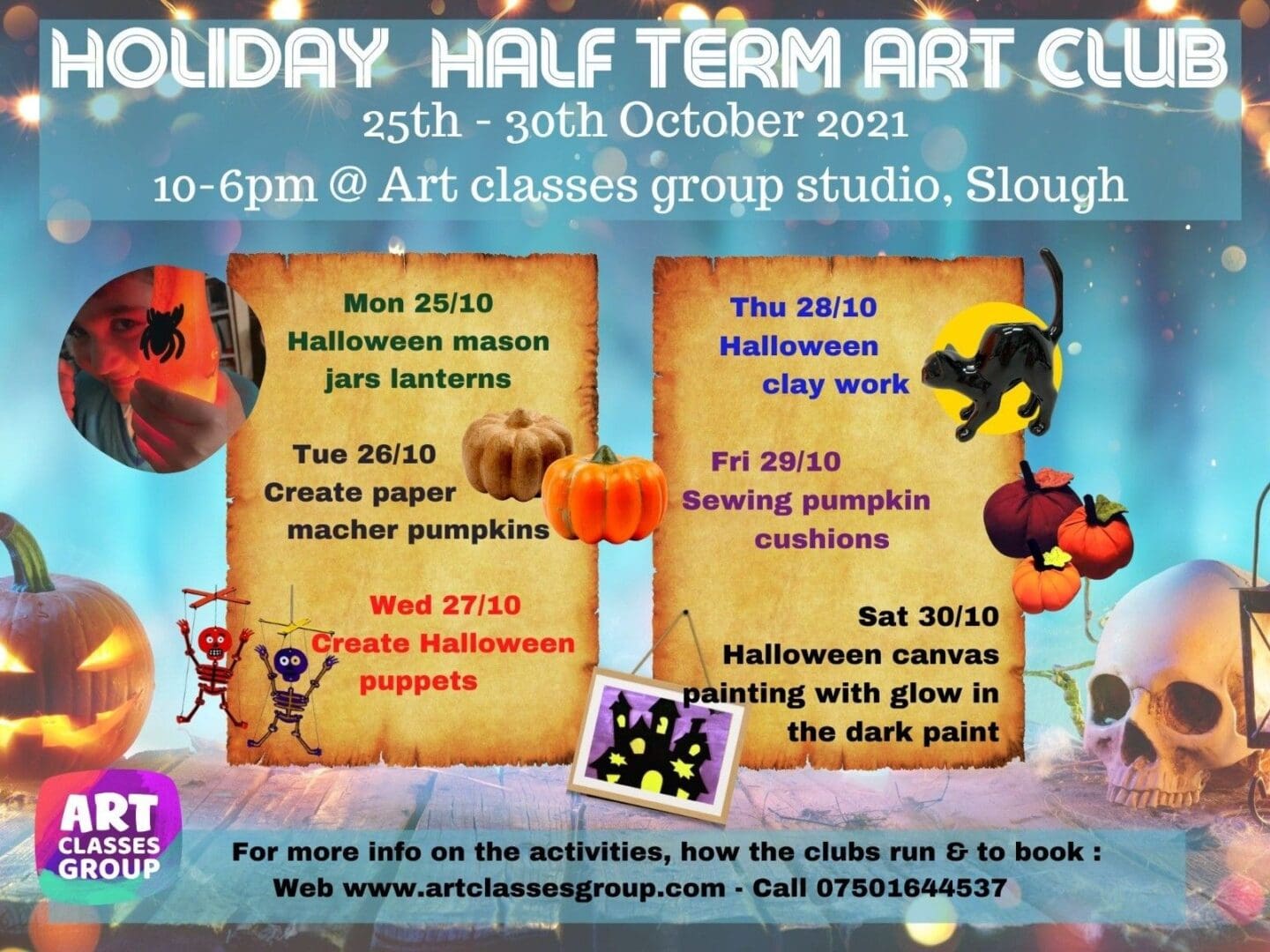 Join us for a festive half term with art activities for all ages.
When: October half term, 25th – 30th October 2021
Where: Art classes group studio, based in Observatory Shopping Centre, Slough, Gallery level, SL1 1LN.
How much: Each session is for 1.5 hours for £12 or £40 memberships of 4 sessions. For registration and booking form, please use this link.
Programme:
Mon 25/10 – Halloween mason jars lanterns
Children will have the chance to decorate mason jars with glass paints and transform them into glowing lanterns with lights provided.
Tue 26/10 – Create paper macher pumpkins
Learn the technique of paper macher and create real life-size pumpkins. After drying out, paint your pumpkins with acrylic paints.
Wed 27/10 Create Halloween puppets
Wooden pieces will be available to be painted to assembled into Halloween movable puppets. Children will create witch, bat, zombie puppets.
Thu 28/10 Halloween clay work
Create mini 3D pieces using air-drying clay. The objects will be painted and glazed.
Fri 29/10 Sewing pumpkin cushions
For this workshop, we will be using safety needles and felt. Children will have the chance to sew their own fluffy pumpkin mini cushions.
Sat 30/10 Halloween canvas painting with glow in the dark paint
Unique painting workshop with glow in the dark paints, canvases and lots of inspiration. Participants will create spooky landscapes, haunted houses, Harry Potter scenes that will glow in the dark.
This October half term, have a go and enjoy doing your own Halloween crafts.
Have a bootiful Halloween!