Online seasonal art classes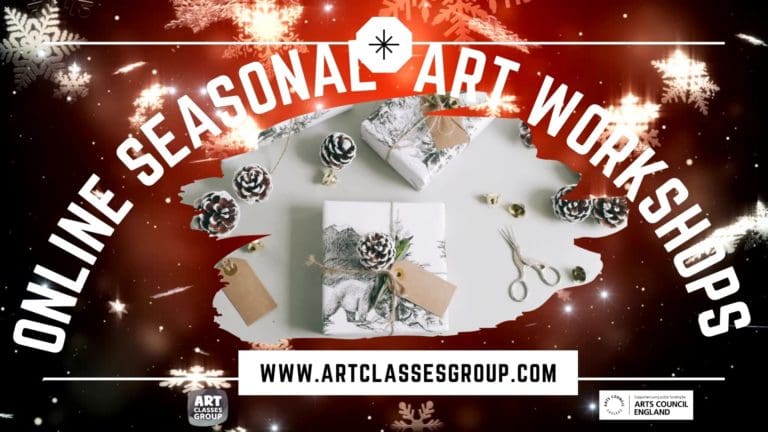 Welcome to Art Classes Group, we are a visual art centre that supports young artists. It promotes engagement with the visual arts through a range of inclusive activities: exhibitions, workshops and demonstrations.
We're delighted to announce the Online Seasonal Art Workshops running from 20th until 30th December 2020, every day 3-4.30pm. We selected 11 artists to run online art workshops, and everyone can participate for free. For more information about the artists, you can watch our live interview.
There are limited places available per each workshop, so please register in advance.
To make winter holidays more cheerful, Art Classes Group has prepared surprise art boxes for participants. Each box will contain art materials and will be available in a limited number. Please register in advance to receive your art box. Only one box per family will be sent. This offer is available only for UK residents and is available for the first 10 participants, per each workshop.
All the art boxes have been sent out for the workshops running on 20, 21 and 22nd December. Free boxes still available for the rest of the workshops and for 25th December there are available art materials from the artist as well.
Everyone who participated in the online art workshops will enter into a prize draw and will have to chance to win a professional art set containing canvases, oil paints, brushes, pencils, drawing paper etc. The winner will be announced on our website on 10th January 2021.
Congratulation to Joelene Moore for winning a professional art set. We will be in touch with you by 18th January 2021. Please see the recording for the prize draw here, minute 28. We hope you'll enjoy our inspiring programme at the end of 2020 and into 2021.